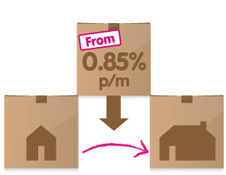 Apply now for our best Bridging Loan Rates
Bridging finance available from only 0.85% per month
Loans Warehouse is delighted to offer a range of exceptional plans in Bridging Finance, thanks to new opportunities we have negotiated with established UK lenders, and specialists in the industry. Not only do we offer excellent bridging loan rates, we can also save you a lot of money, simply by understanding the products and selecting the right plan for you.
Important – make the right choice and avoid penalties
Fees and terms in bridging finance can vary. Repayment terms can be anything from 1 day to 24 months and some plans allow you to settle the loan whenever the time is right, without penalty. There are also plans that don't charge an exit fee when the loan finishes. So choosing the right financial arrangement is an important decision which we can help you with.
Borrow as much as you need – from £25,000 to £25 million
Whether you need the finance to bridge the gap between mortgage contracts for a property purchase, or you need to boost the start of a multi-million pound business venture by funding stock purchases – we can help. With competitive bridging loan rates, it be be the ideal solution for you. Within reason, there is no limit to the amount you can borrow, as long as you have security to cover the loan, and there is what purpose.
You can use bridging finance for...
A new property before you sell the existing one

Property at auction

Rebuilding or re-furbishment

Commercial premises

Restoration projects at non-mortgageable sites

Acquisition of development land

Raising money to solve a short term cashflow issue

Business purchase or investment

Divorce settlement
APPLY NOW for our best Bridging loan rates and a no obligation quote
One of our team will call you straight back and we could give you a decision on your loan within the hour. Certain types of bridging loans are not regulated by the Financial Conduct Authority. If you are unsure, please request further information when you speak to one of the team.
Please ensure you have read and understood all information before applying.
To ask a question or apply
01923 678 8708am - 7pm Mon to Fri, 9am - 4pm Sat

Benefits, at a glance…
Choice of plans from a range of lenders
Rates from 0.85% per month
Borrow £25k to £25m
As little as 48 hours to arrange
CCJs or arrears, we can help
No early settlement or exit fees
Borrow up to 100% of the purchase price*
* Assumes security is available as equity

Nikki has gone above and beyond my expectations on her service levels and I would have no hesitation in recommending your company.

Debbie, Ashton-Under-Lyne

Just wanted to drop you a quick line to say thank you for all your help securing the loan we requested. Throughout the process you acted professionally but seemed to care and helped us through each stage.

Kevin, Portsmouth

Thank you so much for your help recently in sorting a loan out on our behalf. You we're really helpful, have a loverly manner which put us at ease, were very very efficient and made the whole process really simple. You are a credit to your company.

Steve & Caroline, Rugby