Consolidate credit card debt
Take action against increased credit card rates – consolidate credit card debt now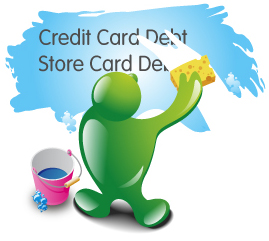 You may have been aware that credit card companies are hiking up their interest rates, just so they can earn more from their customers – like you. Paying £100s of credit bills each month as well as having to deal with rising prices on every day living expenses means maintaining control over monthly budgets is becoming more and more difficult.
So if you feel like cancelling your credit cards, or maybe you just want to reduce some of the debts on a few selected cards, now is the perfect opportunity. You can apply now to Loans Warehouse for a consolidation loan and say goodbye to high interest rates and burdening monthly repayments. By consolidating credit card debts you could:
Dramatically reduce your monthly outgoings
Have more disposable income each month
Plan your life with much less pressure from finances
Reduce the overall cost of credit compared with what you're paying now*
Manage your finances easily with just one loan


*Consolidating credit card debt with one loan at a lower interest rate could save you money as long as the repayment period is over the same term – or less – than your current credit repayments.
Please be aware that when consolidating items of credit, whilst your monthly repayments may reduce, you could be extending the term and therefore the total amount of interest you will pay.
Representative Example: If you borrow £31,000 over 14 years at a rate of 7.468% variable, you will pay 168 instalments of £333.54 per month and a total amount payable of £56,034.72. This includes the net loan, interest of £21,339.72, a broker fee of £3100.00 and a lender fee of £595.00. The overall cost for comparison is 9.9% APRC variable.
Plus you could have a lump sum left over
Clearing credit bills with one consolidation loan could not only reduce your monthly bills, it could also give you some additional funds left over. This extra cash provides even more financial comfort, and can be used for anything you like.
So why not consolidate your credit debts through Loans Warehouse?
Loans Warehouse is a finance broker and our business is dedicated to finding the best loan for every individual customer. All of our expertise in negotiating with lenders, understanding the products that are available, and knowing how each product uniquely suits your individual needs, means we can find the right loan to consolidate your debts. Why not get a no obligation quote today.
To apply by phone call 01923 678 870 (8am - 7pm Mon to Fri, 9am - 12pm Sat.)
Please ensure you have read and understood all information before applying.
To ask a question or apply
01923 678 8708am - 7pm Mon to Fri, 9am - 4pm Sat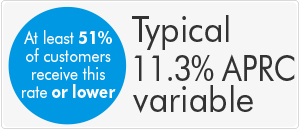 Nikki has gone above and beyond my expectations on her service levels and I would have no hesitation in recommending your company.

Debbie, Ashton-Under-Lyne

Just wanted to drop you a quick line to say thank you for all your help securing the loan we requested. Throughout the process you acted professionally but seemed to care and helped us through each stage.

Kevin, Portsmouth

Thank you so much for your help recently in sorting a loan out on our behalf. You we're really helpful, have a loverly manner which put us at ease, were very very efficient and made the whole process really simple. You are a credit to your company.

Steve & Caroline, Rugby