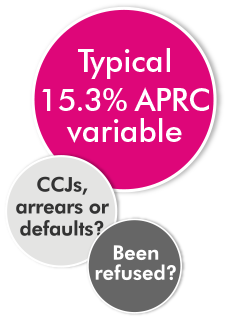 Debt consolidation loans for bad credit
Loans Warehouse can help you in more ways than you think…
When you need finance, we know that means you'd like it to be arranged quickly, without hassle and without rejection – especially after a long drawn out application process. Whether it's arranging large debt consolidation loans for bad credit, or small home improvement loans, every application demands attentive service and real understanding of the customer's individual financial circumstances.
For Loans Warehouse, the finance industry is familiar territory and that means we are able to provide loans for people with a wide range of financial needs.
Finance is not readily available to people with bad credit, but through in-depth knowledge of the UK loan industry we can find loan plans that other lenders and brokers can't offer. Even severe credit problems shouldn't prevent customers from being able to get a loan to manage their debts and finances more positively in future.
Debt consolidation loans for bad credit is one example where Loans Warehouse can offer a positive solution.
Consolidating your existing debts offers many benefits
Sooner or later many of us reach the point where the number of credit cards, store cards, loans and other types of finance either become difficult to manage on a monthly basis, or things simply get out of hand. Dealing with unpaid debt becomes difficult and the stress starts to mount just as quickly as the bills do.
With a debt consolidation loan, existing debts, a poor credit rating, unpaid bills and all of the pressure that goes with it, can be managed easily and efficiently by consolidating as much of it as possible. It offers a fresh start and the freedom and flexibility to move on with your lfe, with your finances back under control.
Consolidation loans can be arranged quickly and easily by Loans Warehouse, and we believe the rates we can provide on loans, even for people with an extremely poor credit score, are among the most competitive available anywhere.
Please be aware that when consolidating items of credit, whilst your monthly repayments may reduce, you could be extending the term and therefore the total amount of interest you will pay.
To apply by phone call 01923 678 870 (8am - 7pm Mon to Fri, 9am - 12pm Sat.)
Representative Example: If you borrow £31,000 over 14 years at a rate of 12.758% variable, you will pay 168 instalments of £447.83 per month and a total amount payable of £75,235.44. This includes the net loan, interest of £40,240.44, a broker fee of £3100.00 and a lender fee of £595.00. The overall cost for comparison is 16.4% APRC variable.
Please ensure you have read and understood all information before applying.
To ask a question or apply
01923 678 8708am - 7pm Mon to Fri, 9am - 4pm Sat
Nikki has gone above and beyond my expectations on her service levels and I would have no hesitation in recommending your company.

Debbie, Ashton-Under-Lyne

Just wanted to drop you a quick line to say thank you for all your help securing the loan we requested. Throughout the process you acted professionally but seemed to care and helped us through each stage.

Kevin, Portsmouth

Thank you so much for your help recently in sorting a loan out on our behalf. You we're really helpful, have a loverly manner which put us at ease, were very very efficient and made the whole process really simple. You are a credit to your company.

Steve & Caroline, Rugby