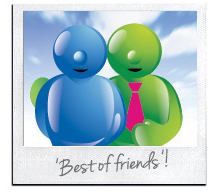 Guarantor Loans
If your friend trusts you then so do we! Borrow up to £10,000 and get the money fast with a same day payout.
If you have a low credit score or bad credit history, a guarantor loan could make it much easier for you to be accepted for a loan at a much more affordable rate.
A guarantor loan can be a more cost effective way to borrow than many other methods of raising funds, and it's quick and easy. To apply, all you need is a guarantor for the loan – a friend who is a homeowner and someone who trusts you. And if they do, then so do we!
You can then borrow up to £10,000 and get the money within 3 days.
So speak to your friend and see if they are happy to act as guarantor. If they have any questions, show them our FAQ section below, or you can contact us and we'll be happy to answer any questions.
Representative 49.9%APR variable
Representative Example: Borrowing £4,000 over 36 months, repaying £195.16 per month, total repayable £7,025.76. Interest rate 49.9% variable.
Fast payout

Same day payouts if we can.

No hidden costs

No set up or early repayment fees.

Fast online application

Apply now - it takes just minutes.
Guarantor Loans FAQs
How quickly can I get my loan?
Once we receive your application we can process it and pay out the money between 1 and 3 working days. We will need a quick chat with you and your guarantor after you have applied, so please make sure you are available and look out for our call. The quicker we speak to you to confirm the details, the faster we can pay out your money.
What is a guarantor?
A guarantor needs to be a homeowner, aged 18-75, with good credit history and hasn't had trouble paying bills in the past.
The guarantor is providing security so they will have to pay the loan back if you are not able to. It is a commitment, so it is important that the guarantor understands the terms and is comfortable they can afford to make the repayments if required. The applicant and guarantor must trust one another implicitly.
What is the loan application process?
First, you need to find a guarantor who trusts you to pay back the loan and that you are confident that you can afford the monthly payments.
Once we receive your loan application, it takes us up to 48 hours to check through the information provided and make sure everything is OK.
We will then call you and your guarantor as soon as we have done this to explain all the loan details. Once we have spoken to you both, we can pay out your loan which is transferred into your guarantor's account (to protect them against fraud and to make sure they know what has been arranged).
What if I can't make the monthly repayment?
If for any reason you can't make the monthly repayment, we will ask your guarantor to make the payment for you. If you think you may not be able to make a payment in a given month, please make sure you speak to your guarantor and let them know before the payment is due. They can then pay the money for you on time, so that your account is kept up-to-date.
Making monthly payments on time will have a positive effect on your credit score –the more payments you make on time, the better your credit history becomes.
Does it require a credit check?
We will credit check you, as the borrower, but only to confirm that you are not currently bankrupt or on an IVA for example.
Thousands of people are turned down for loans each day because of companies relying on a credit score that says they can't be trusted. We know that in many cases this simply isn't true, so we base our loans on friendship and trust. Therefore, if your friend trusts you then we will too.
We will also check the guarantor's credit file, to again, to make sure that they haven't had any trouble paying back bills in the past. However, this is only 'Quotation search' which means that no footprint will be left on the credit file.
Can a guarantor loan help improve my credit score?
Yes. Every month that you pay us on time, it informs the main credit reference agencies (Equifax, Call Credit and Experian) so the more payments you make on time, the better your credit history becomes.
Have a question not listed here? Visit our FAQ section.
Please ensure you have read and understood all information before applying.
To ask a question or apply
01923 678 8708am - 7pm Mon to Fri, 9am - 4pm Sat
Nikki has gone above and beyond my expectations on her service levels and I would have no hesitation in recommending your company.

Debbie, Ashton-Under-Lyne

Just wanted to drop you a quick line to say thank you for all your help securing the loan we requested. Throughout the process you acted professionally but seemed to care and helped us through each stage.

Kevin, Portsmouth

Thank you so much for your help recently in sorting a loan out on our behalf. You we're really helpful, have a loverly manner which put us at ease, were very very efficient and made the whole process really simple. You are a credit to your company.

Steve & Caroline, Rugby