How to get a secured loan
It's easy when you talk to the right people
If you are a homeowner looking to borrow money, you'll know there are many options available to you. Whether through your bank or building society, an online loan company or through a recommendation from a finance professional.
If you're wondering how to ensure you get the right secured loan for you, then call us today and let one of our experienced team help to guide you through the process and see what the best secured loan options are available to you.
A full understanding of your personal financial circumstances will need to be gained in order to make the right decision about a secured loan for you - to ensure it's affordable.
Knowing how to get a secured loan is easier if you understand what it is and what it offers…
A secured loan simply means the loan is secured - usually on property
Qualifying for finance has become much harder and there are many factors that can influence the final decision. So although dealing directly with a bank or lender is arguably the first choice for many people, the fact is thousands of people are refused, for all sorts of reasons.
However, some loan providers have much greater flexibility when a borrower is able to offer security to cover the loan and it makes it easier for them to say 'yes', when others may have refused all options. It also means lower rates can be offered, and there are also options for people whose credit history isn't perfect. Knowing who those lenders are is therefore the key to finding the most suitable option, and that is one of the many strengths that a loan broker, like Loans Warehouse, possesses. So if you're wondering how to get a secured loan, make Loans Warehouse your first call!
What a lender expects to know about you
Any broker or lender needs to be 100% confident that you will be able to afford the repayments, and to make an informed decision they will want to know some information about your finances. For example:
What is the value of your property and how much is left to repay?
Is the property jointly owned?
What is your income?
Do you have problems keeping up with monthly living expenses?
What other kinds of loans or credit cards do you have currently?
How much do you want to borrow, and what is it for?
As an independent broker, Loans Warehouse acts for its customers by working closely and negotiating with leading UK lenders. With up-to-the-minute information and in-depth knowledge about the vast range of options available from our close working relationship with leading lenders, we search the market for the right loan to suit a customer's criteria.
Making a no obligation application
Completing an application form is the best way to find out exactly which loans are right for you – but remember you're under no obligation to take the loan. You'll be given examples showing how much you can borrow and how much it will cost overall and you will also have options such as different repayment amounts and repayment terms. We make sure that the loan is tailored to meet your personal requirements and everything about the loan will be explained clearly just so you are happy you are making the right choice.
Loans Warehouse can easily help you make the right decision
Loans Warehouse will be delighted to show you how to get a secured loan and explain how it could benefit you. Call us or apply now and we guarantee you will be delighted with every aspect of our service. We can discuss your requirements with complete confidentiality and without obligation.
To apply by phone call 01923 678 870 (8am - 7pm Mon to Fri, 9am - 12pm Sat.)
Representative Example: If you borrow £32,000 over 14 years at a rate of 11.85% variable, you will pay 168 instalments of £442.30 per month and a total amount payable of £74,306.40. This includes the net loan, interest of £38,111.40, a broker fee of £3200.00 and a lender fee of £995.00. The overall cost for comparison is 15.3% APRC variable.
Please ensure you have read and understood all information before applying.
To ask a question or apply
01923 678 8708am - 7pm Mon to Fri, 9am - 4pm Sat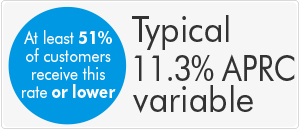 Nikki has gone above and beyond my expectations on her service levels and I would have no hesitation in recommending your company.

Debbie, Ashton-Under-Lyne

Just wanted to drop you a quick line to say thank you for all your help securing the loan we requested. Throughout the process you acted professionally but seemed to care and helped us through each stage.

Kevin, Portsmouth

Thank you so much for your help recently in sorting a loan out on our behalf. You we're really helpful, have a loverly manner which put us at ease, were very very efficient and made the whole process really simple. You are a credit to your company.

Steve & Caroline, Rugby