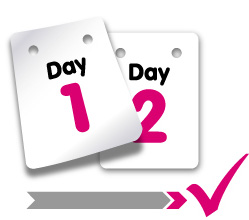 Quick bridging loans
For people who want to move fast
If you don't yet have a mortgage in place to secure the purchase of a new property or a refurbishment project, Loans Warehouse can help to arrange a quick bridging loan for you, while you wait for the mortgage to be agreed.
Quick Bridging Loans arranged in just 2 days
Arranging bridging loans can be very quick and take as little as two days, instead of the weeks it could take if you were to wait for the mortgage. So there's no need to delay things – you can act quickly with the purchase of a new home, safeguarding its price and investment opportunity, and removing the risk and stress of the deal falling through.
Our expertise will enable you to act fast, with confidence
At Loans Warehouse, we understand that arranging finance can be stressful, especially when it comes to arranging such large amounts for such a critical purchase. So you'll be pleased to know that if your looking for quick bridging loans service, our specialist bridging team has many years of experience in the finance industry and are highly qualified to help you to find the right solution with speed, efficiency and understanding of individual circumstances.
We deal directly with some of the UK's most reputable lenders, so you can be confident that our service and products come with the assurances and guarantees given by industry leading organisations and are highly competitive.
Flexible and competitive options
Quick bridging loans could be arranged up to £25 million, and for as long as 2 years, so you won't be compromised on flexibility. Options also include no exit fees or early repayment penalties, so there's no problem if circumstances change along the way. We can arrange loans for a wide range of circumstances, supporting almost any property venture and even providing emergency funds for other purposes.
Apply on-line or call one of the team for a fast decision
The time it takes to arrange a bridging loan varies for each individual application. Whilst this can be as little as 2 days, different factors can impact it. Please therefore speak to one of the team when you submit your application.
Apply now, one of our team will call you straight back and we could give you a decision on your loan within the hour. Alternatively, call 01923 678 870 and speak to one of our bridging loan advisors.
Certain types of bridging loans are not regulated by the Financial Conduct Authority. If you are unsure, please request further information when you speak to one of the team.
Please ensure you have read and understood all information before applying.
To ask a question or apply
01923 678 8708am - 7pm Mon to Fri, 9am - 4pm Sat
Nikki has gone above and beyond my expectations on her service levels and I would have no hesitation in recommending your company.

Debbie, Ashton-Under-Lyne

Just wanted to drop you a quick line to say thank you for all your help securing the loan we requested. Throughout the process you acted professionally but seemed to care and helped us through each stage.

Kevin, Portsmouth

Thank you so much for your help recently in sorting a loan out on our behalf. You we're really helpful, have a loverly manner which put us at ease, were very very efficient and made the whole process really simple. You are a credit to your company.

Steve & Caroline, Rugby