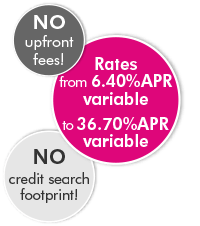 Consolidation Loans
Pay off credit cards with a low rate consolidation loan and have just one low monthly repayment.
If you're repaying credit cards, store cards and catalogue bills each month, they could add up to £100s. And if you only pay the minimum repayments, it could take you a long time to clear them – and cost you £1,000's in interest charges.
With low rate consolidation loans from 6.1% APRC variable however, you could pay off all your existing credit in full - and with just one low monthly repayment. It could significantly reduce your credit outgoings and could save you £100s each month compared to what you are paying now.
As well as consolidating you could borrow extra, so that you have the money for home improvements, a new car or something that you have been dreaming about but not had the funds to make it a reality. Now is your chance to make it happen.
There are no upfront fees and with our soft credit search we could find the lowest rate available to you without leaving a footprint on your credit score.
Please be aware that when consolidating items of credit, whilst your monthly repayments may reduce, you could be extending the term and therefore the total amount of interest you will pay.
A decision on your consolidation loan in minutes
Representative Example: If you borrow £40,000 over 13 years at a rate of 6.50% variable, you will pay 156 instalments of £411.82 per month and a total amount payable of £64,243.92. This includes the net loan, interest of £20,948.92, a broker fee of £2800.00 and a lender fee of £495.00. The overall cost for comparison is 8.2% APRC variable.
A decision in minutes

No matter how you apply, you could get a decision on your loan within minutes. (During working hours.) We keep things quick and simple.

No credit search footprint

Our soft credit search means you receive an immediate decision based on your criteria without affecting your credit score.

Low monthly repayments

With a secured loan you can choose a plan that suits your finances. You can pay it off quickly or extend the term to reduce your monthly repayments – either way you are in control.

Reduce outgoings by £100s

Consolidating credit cards, store cards and catalogue credit with a lower rate homeowner loan could reduce your outgoings by £100s each month – leaving you to enjoy life with less financial pressure.

Make overpayments

You can make overpayments without charge with many of our loans. This may also reduce the amount of interest you pay in total.

Borrow extra

Pay off existing credit and borrow extra for any purpose. With low monthly repayments you can now afford to do the things you want to.
To apply by phone call 01923 678 870 (8am - 7pm Mon to Fri, 9am - 12pm Sat.)
Consolidation Loans FAQs
Are consolidation loans a better alternative to a debt management plan?
A consolidation loan is simply a loan with affordable monthly repayments. When the loan is repaid the debt is finished, whereas a debt management option could have significant implications on your ability to get finance in the future.
What are the benefits of a consolidation loan over a re-mortgage?
A secured consolidation loan is separate to your mortgage. This means that you will continue with your current mortgage product and therefore not incur any early repayment charges potentially associated with a remortgage.
I have a poor credit history, can I still apply?
At Loans Warehouse we will use our experience within the secured loan industry to ensure that you aren't penalised for not being perfect. Even people with the most severe credit problems are welcome and almost all circumstances are considered. View our Loans For Bad Credit page.
Does my application require a credit check?
Yes, but at Loans Warehouse we conduct 'soft searches' which do not affect your credit rating in any way.
Have a question not listed here? Visit our FAQ section.
Please ensure you have read and understood all information before applying.
To ask a question or apply
01923 678 8708am - 7pm Mon to Fri, 9am - 4pm Sat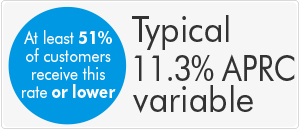 Nikki has gone above and beyond my expectations on her service levels and I would have no hesitation in recommending your company.

Debbie, Ashton-Under-Lyne

Just wanted to drop you a quick line to say thank you for all your help securing the loan we requested. Throughout the process you acted professionally but seemed to care and helped us through each stage.

Kevin, Portsmouth

Thank you so much for your help recently in sorting a loan out on our behalf. You we're really helpful, have a loverly manner which put us at ease, were very very efficient and made the whole process really simple. You are a credit to your company.

Steve & Caroline, Rugby