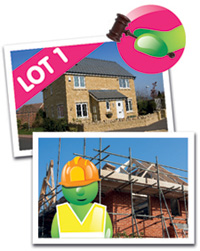 Bridging Finance from Loans Warehouse
A great way to help you secure your property investment – and a lot more
If you are purchasing property or land, or making improvements to a building, you may be in a situation where you need to act quickly to raise the finance – in advance of your mortgage or loan application being processed. Bridging finance through Loans Warehouse could be exacly what you need and it's available for a wide range of circumstances, and not exclusively related to property purchases. For example it can help you:
Finance the purchase or construction of a property

Buy a property at auction

Extend or re-finance an existing bridging agreement

Purchase commercial property or finance a business venture

Fund refurbishment work and extensions

Make emergency repairs or maintenance

Help with divorce settlement
How bridging finance can work for you
Bridging loans can provide a very quick and convenient finance package for people who could otherwise lose out on a great opportunity. For example, there may be a delay in arranging the mortgage, and by waiting for approval you risk the deal collapsing.
Bridging the finance gap following a broken chain is another example of where a short-term bridging loan can help.
Not only will bridging finance allow you to secure the deal you have worked hard to achieve, time and money spent on the sale and purchase process to date should also be considered as part of the overall cost saving. So, in all, setting up bridging finance could mean you save a great deal of money when you consider the investment as a whole, and in the long term.
We'll look for the best rates on the market for you
At Loans Warehouse, we work closely with a whole range of highly reputable lenders, so our customers benefit from a wide choice of the very latest plans. Acceptance for finance is therefore much more likely than if you were to apply directly to your bank or a single lender.
Rates are from 0.80% per month
Terms are from 1 month to 2 years
Borrow from £25,000 up to £25M
A short-term option that can save a great deal in the long term
It must be remembered that bridging finance offers a short-term solution, and the value of the service has to be seen as part of the package. It's about convenience, speed and reassurance. In fact it can be arranged in as little as two days, so you don't have to worry about finance as well as all the other things that you need to organise.
Expertise and reassurance
Thanks to many years of experience arranging all kinds of finance for thousands of different customers right across the country, Loans Warehouse can provide bridging finance with exceptional service and a true understanding of the broader finance issues that people face day to day.
Apply now, one of our team will call you straight back and we could give you a decision on your loan within the hour so you can be ready to act instantly to secure the investment you've been planning for.
Certain types of bridging loans are not regulated by the Financial Conduct Authority. If you are unsure, please request further information when you speak to one of the team.
Please ensure you have read and understood all information before applying.
To ask a question or apply
01923 678 8708am - 7pm Mon to Fri, 9am - 4pm Sat
Nikki has gone above and beyond my expectations on her service levels and I would have no hesitation in recommending your company.

Debbie, Ashton-Under-Lyne

Just wanted to drop you a quick line to say thank you for all your help securing the loan we requested. Throughout the process you acted professionally but seemed to care and helped us through each stage.

Kevin, Portsmouth

Thank you so much for your help recently in sorting a loan out on our behalf. You we're really helpful, have a loverly manner which put us at ease, were very very efficient and made the whole process really simple. You are a credit to your company.

Steve & Caroline, Rugby