Home loans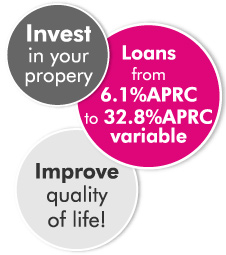 Choosing the right loan to fit in with your home improvement plans
A home loan is simply a term used to explain either the purpose of taking finance for home improvements or describing a homeowner loan, a loan secured on your property - like a mortgage.
Any form of home loans that are used to improve the look of your property can have two obvious benefits.
The improvements you make to your home increases the quality of life for you and your family

The money you invest in improvements could increase the value of your property
There is a huge choice of home loans available - make sure it's the right one
Loans Warehouse is a leading UK finance broker, offering a wide range of homeowner loans (aka home loans) for almost any circumstance. As a trusted UK broker, we can access more home loan options than you could ever imagine and our experienced advisors can make recommendations on which plan is most suited to your specific needs. Getting it right is what we do, every day.
A secured home loan can mean competitive rates
Thousands of people in the UK have taken out a homeowner loan to pay for home improvements. By using their home to secured the loan, they have benefitted from lower rates and repayments than many unsecured options. Loans Warehouse are currently offering homeowner loans up to £2,500,000 with low rates, no up front fees and no credit search footprint.
Use our homeowner loan calculator and see how attractive our rates really are.
Apply now and an experienced advisor will help you
So why not start on those home improvement plans today and add some real quality and value to your home, whether it's a beautiful extension, some slick room modifications or a smart loft conversion. Call us or apply today, and we'll search the market for the best deal we can find for you.

To apply by phone call 01923 678 870 (8am - 7pm Mon to Fri, 9am - 12pm Sat.)
Representative Example: If you borrow £32,000 over 14 years at a rate of 11.85% variable, you will pay 168 instalments of £442.30 per month and a total amount payable of £74,306.40. This includes the net loan, interest of £38,111.40, a broker fee of £3200.00 and a lender fee of £995.00. The overall cost for comparison is 15.3% APRC variable.
Please ensure you have read and understood all information before applying.
To ask a question or apply
01923 678 8708am - 7pm Mon to Fri, 9am - 4pm Sat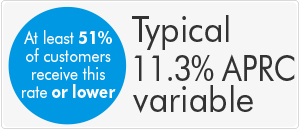 Nikki has gone above and beyond my expectations on her service levels and I would have no hesitation in recommending your company.

Debbie, Ashton-Under-Lyne

Just wanted to drop you a quick line to say thank you for all your help securing the loan we requested. Throughout the process you acted professionally but seemed to care and helped us through each stage.

Kevin, Portsmouth

Thank you so much for your help recently in sorting a loan out on our behalf. You we're really helpful, have a loverly manner which put us at ease, were very very efficient and made the whole process really simple. You are a credit to your company.

Steve & Caroline, Rugby