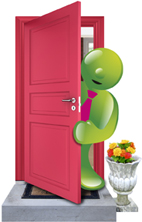 Homeowner loans
The finance option that's ideal for property owners, like you…
If you own your home, raising finance for something you need is all the more attractive because of the security in your property. Lenders are willing to offer Homeowner loans, which are secured against your property, at a competitive rate of interest. That means your repayments could be much more affordable than an unsecured loan or other form of borrowing. Also, when consolidating, the total cost of Homeowner loans in many cases can work out significantly less than paying off unsecured credit at the minimum repayments.
Homeowners who have equity can normally expect to receive a good rate compared to an unsecured loan. And even if you don't have any equity in your home (ie, the outstanding mortgage is almost the same as the property value), there are plans available that work to an equity value that exceeds your property valuation. At Loans Warehouse, we can give you an idea of what loan amount you will be able to borrow, given your own circumstances.
Homeowner loans can be tailored to suit you
You can decide whether you want to pay the loan off quickly and save interest, or make the loan longer term thereby reducing monthly repayments. Our advisors search the UK loan market for the best options available, they will help you decide which plan is right for you and will fully explain all the benefits.
There are no restrictions on how you use the money (within reason)
As long as the money is used legitimately and sensibly, you are entitled to use a Homeowner loan for anything you like. Many people invest in home improvements or pay for an important family celebration, whist others will consolidate existing borrowing and reduce their outgoings. Often the loan is arranged to pay for a range of things, and it offers an extremely practical financial management tool. It really can help you to relax and enjoy life more, knowing that your finances are well covered each month.
We can make it easy for you
At Loans Warehouse, applying for a loan is simple and straightforward. And if it makes it easier for you, we can arrange a call back to help you get your application through even quicker. So don't delay, call us or apply today.
Please be aware that when consolidating items of credit, whilst your monthly repayments may reduce, you could be extending the term and therefore the total amount of interest you will pay.
Representative Example: If you borrow £32,000 over 14 years at a rate of 7.55% variable, you will pay 168 instalments of £351.50 per month and a total amount payable of £59,052.00. This includes the net loan, interest of £22,557.00, a broker fee of £3,200.00 and a lender fee of £1,295.00. The overall cost for comparison is 10.4% APRC variable.
Apply now, one of our team will call you straight back and we could give you a decision on your loan within the hour.
Please ensure you have read and understood all information before applying.
To ask a question or apply
01923 678 8708am - 7pm Mon to Fri, 9am - 4pm Sat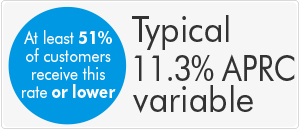 Nikki has gone above and beyond my expectations on her service levels and I would have no hesitation in recommending your company.

Debbie, Ashton-Under-Lyne

Just wanted to drop you a quick line to say thank you for all your help securing the loan we requested. Throughout the process you acted professionally but seemed to care and helped us through each stage.

Kevin, Portsmouth

Thank you so much for your help recently in sorting a loan out on our behalf. You we're really helpful, have a loverly manner which put us at ease, were very very efficient and made the whole process really simple. You are a credit to your company.

Steve & Caroline, Rugby