How to consolidate debt
If you've found yourself struggling to pay off multiple debts, you're not alone.
You may be wondering how to consolidate debt in the best way to suit your particular situation. We're here to help find the right individual loan product to suit you, and inform you of your options, taking some of the weight off your shoulders.
With a low rate secured loan, you can consolidate debt by paying one affordable repayment each month, and take control of your finances again! What's more, we can search for the best debt consolidation option for you, without leaving a trace on your credit score.
How to get a consolidation loan
Our expert knowledge of the finance industry means Loans Warehouse can help you every step of the way, arranging a competitive rate loan to meet your needs and circumstances – even if you have had a bad credit history and have been refused in the past.
We'll handle all the hard work, so you don't have to. Applying for a loan easy and you're under no obligation.
How consolidating debt could benefit you
Consolidating debt with one low rate loan could help you organise your finances making it easier to keep track of what you owe.
Please be aware that when consolidating items of credit, whilst your monthly repayments may reduce, you could be extending the term and therefore the total amount of interest you will pay.
You should be aware that consolidation loans could have a longer repayment term than credit cards. Therefore the loan repayment could be higher.
Things to consider with debt consolidation
Debt consolidation could be a great solution if you're careful about managing your spending. However, it sometimes only treats the symptoms of debt, not the root of the problem – how the debt occurred to begin with.
It's important to take a look at your budget, and make sure you can afford the monthly repayments for your loan after all of your necessary monthly outgoings.
Loans Warehouse take great care in making sure your loan repayments are comfortably within your monthly budget. So you can have complete confidence that you'll be in control of your finances.
To apply by phone call 01923 678 870 (8am - 7pm Mon to Fri, 9am - 12pm Sat.)
Representative Example: If you borrow £31,000 over 14 years at a rate of 12.758% variable, you will pay 168 instalments of £447.83 per month and a total amount payable of £75,235.44. This includes the net loan, interest of £40,240.44, a broker fee of £3100.00 and a lender fee of £595.00. The overall cost for comparison is 16.4% APRC variable.
Please ensure you have read and understood all information before applying.
To ask a question or apply
01923 678 8708am - 7pm Mon to Fri, 9am - 4pm Sat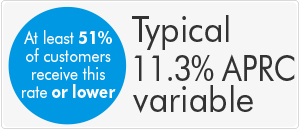 Nikki has gone above and beyond my expectations on her service levels and I would have no hesitation in recommending your company.

Debbie, Ashton-Under-Lyne

Just wanted to drop you a quick line to say thank you for all your help securing the loan we requested. Throughout the process you acted professionally but seemed to care and helped us through each stage.

Kevin, Portsmouth

Thank you so much for your help recently in sorting a loan out on our behalf. You we're really helpful, have a loverly manner which put us at ease, were very very efficient and made the whole process really simple. You are a credit to your company.

Steve & Caroline, Rugby